This is something we've been cooking up for a while, and it's finally ready to shrinkwrap and deliver to the masses.
Introducing the FREE Anibit Graphical Programmer for the Pololu 3pi Robot.
Here is what it looks like in action: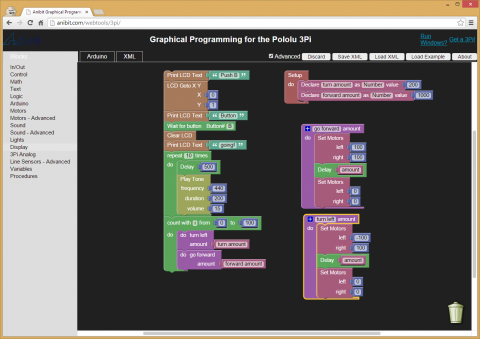 We have adapted a graphical programming environment for the Arduino known as "Blocklyduino" to be tailored to Pololu's 3Pi Robot Platform. Blocklyduino is itself an adaptation of Blockly, a software package for developers to create graphical programming environments.
All of this is heavily inspired by Scratch and the MIT App inventor. If you are not familiar with those tools and watch to teach kids about programming, you really should check the out.
Graphical Programming is a great introduction to programming for kids. and the Pololu 3Pi is a low cost, ready-made robot that kids love. As part part of our mission at Anibit to inspire and educate about robotics, we felt the need to bring the two together.
The 3pi programming tool runs inside a web browser, and should work on all major operating systems and browsers that support HTML5 (* Internet Explorer has currently some problems) . If you setup an Arduino environment for programming the 3pi (instructions here), you can cut and paste generated code directly into the IDE and run it. In addition, we are working on a tool for Windows Operating systems that will take all the intimidating aspects out of uploading code to the robot, and upload your program at the click of a button. The standalone tool is not quite ready yet, keep an eye on this page for the latest information.
You can select the "Arduino" tab and copy/paste the code directly into the Arduino IDE: